Rick Robbins, ASLA, ASGCA, RLA
Stay current with projects and keep up with Rick's travels.
Featured
Recent Events at R&A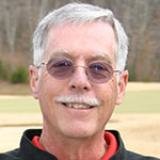 Recent domestic projects have been moving forward at a steady pace this winter. The grow-in process at Compass Pointe in Leland, NC continues as the superintendent, Marty Walker, gets the new 18-hole course ready for a grand opening in May. With a few weeks of warm weather, the new turf will begin to turn green once again and the course will be in great shape for everyone to see what the first new course in the region in years is really like. This week, 125 new palm trees are being planted in key areas of the course, especially around the newly completed short-game area.
Speaking of new short-game practice areas, we have been working with Devils Ridge GC in Holly Springs to rearrange their facilities in order to create more inclusive features. Some shifts are proposed to be made to the existing range tees that will give us space to build a chipping green, a sand practice bunker and green, new artificial turf tees, a "waiting green" and a set of tees and target green for practicing 35 - 70 yard pitch shots. The plans have been drawn and the permit process with the Town is under way. The facilities should be completed by May and ready for use by late June.
The proposed new driving range for the site in Butner, NC is also proceeding well. The owners have received unanimous approval from the Town of Butner for re-zoning the property and to approve the "Special Use" permit for practice range construction. The purchase of the property is scheduled to close by the end of March and construction should proceed soon thereafter.
Renovation of the bunkers at Magnolia Greens Golf Club in Leland, NC (sister course to Compass Pointe) is moving ahead at a good pace. Changes have been made to holes #3 & #8 of the Magnolia Course already and the contractor will begin reworking holes #1 & #6 of the Camellia Course later this week. The program is intended to make the bunker maintenance more cost effective and make the course play better for the many retiree members. The management and owner of Magnolia Greens are committed to significant renovations to the entire 27-hole layout over the next several years.
Trackback URL for this blog entry.