Rick Robbins, ASLA, ASGCA, RLA
Stay current with projects and keep up with Rick's travels.
Featured
Rick Robbins moves to Leland, NC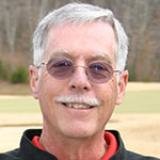 After nearly 23 years of living in Cary, NC, I have relocated to the small town of Leland, just outside historic Wilmington. Actually, I am living in a rented condominium near the clubhouse at the Magnolia Greens development while our new home is being built at the Compass Pointe development. We purchased a lot overlooking the 10th green of the Compass Pointe GC and construction is set to begin next week. If things go as planned, we will be able to move in around Christmas but we expect it will be after January 1st. It is exciting to move to a new place but also difficult to leave the many long-time friends we have in Cary. The good news is that many of them will come to see us here when it gets cold in Cary and it is only a 2-hour drive. We also look forward to making new friends as we get to know people here.
Trackback URL for this blog entry.