Course Routing & Concept Planning
Creating a great master plan is one of the most important steps in developing a successful project. Beginning to bring your vision to life, Robbins & Associates lays out the location of various elements of both the golf course and development areas in accordance with the features of the land and an extensive site evaluation. Great care is taken to rout the golf course and place any other planned amenities so that the greatest value is added to the site. Making sure that all elements of the master plan are in their proper relationship to each other is the beginning of a successful project.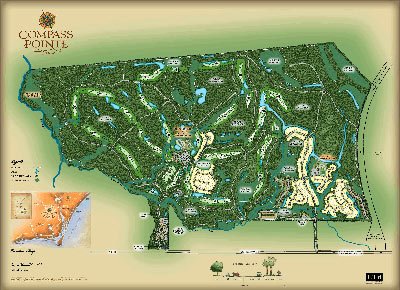 Being able to differentiate between a community of secondary/retirement homes, primary housing, and a resort development, or some combination of these in the master plan is critical. Understanding how successful golf clubs operate and their relation to real estate sales is something Robbins & Associates does very well. A successful master plan requires that all these considerations and many more be taken into account in the planning and not left as an afterthought.
Typical plan documents include: Site analysis maps and reports, golf course routing plans and, in the early stages of planning, development area "bubble plans" that indicate general areas for development and suggested uses. As planning progresses, the "bubble areas" become more defined so that individual lots or housing units are shown along with more refined road patterns. In conjunction with the developer's marketing team, Robbins & Associates will balance the mix and density of various types of units to match as closely as possible the expected sales demands.
Robbins & Associates realizes that creation of a truly inspired master plan requires good information, time and often, numerous trial concepts before the best placement and mix of all the elements of the plan are as they should be. For larger projects that will be developed over several phases, flexibility that allows for response to changing markets is also required.
Production of accurate construction and bid documents is a necessary part of golf course design in today's world. The ability to coordinate construction plans with environmental consultants, project engineers and other team members is needed to file for permits and approvals from government agencies. Having complete and accurate plans and bid documents helps the owner and architect get better pricing for the construction work with fewer surprises.