Detailed Design Plans & Architectural Site Visits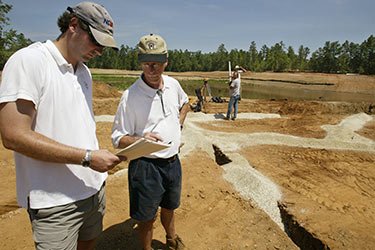 With you every step of the way, Robbins makes personal site visits to ensure your vision is carried through, from design to implementation. As the construction phases begin, Robbins & Associates recognizes the financial and environmental importance of getting the course layout correct from the onset.
Robbins' years of experience working side-by-side with construction teams have built valuable contacts and knowledge of working as a cohesive unit to bring a course to life. They work with highly qualified project managers and skilled shapers to assure the very best installation of the golf course. Robbins knows from long years of experience that great golf courses are the result of having a superior property; a creative design; first-rate construction practices and that are maintained to the highest standards.
Production of accurate construction and bid documents is a necessary part of golf course design in today's world. The ability to coordinate construction plans with environmental consultants, project engineers and other team members is needed to file for permits and approvals from government agencies. Having complete and accurate plans and bid documents helps the owner and architect get better pricing for the construction work with fewer surprises.
Regardless of how accurate the plans are, the personal attention of the architect during all phases of construction will often mean the difference between "good" and "great" in the golf course ratings. Robbins & Associates believes that maintaining a close working relationship with the shaper, contractor and owner throughout the entire construction process will help take advantage of design/strategic opportunities as they arise and help to avoid expensive changes too late in the process.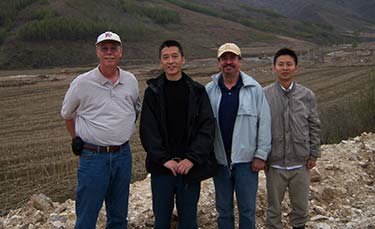 The construction managers used by Robbins & Associates not only understand all aspects of golf course construction scheduling and techniques, they also can coordinate the design and implementation of the golf course with the development of project infrastructure, real estate and other amenities. Making sure the correct sequence of events occurs in a large development project is a critical element of meeting budgets and achieving overall project schedules.