After many years of experience working on golf course and community design projects all over the world, Robbins & Associates has seen how important landscaping is to achieving a product with the highest quality. Too often, someone will attempt to design the landscaping for a golf course development with no prior experience in this highly specialized type of design and the results are usually less than what is expected. We know that landscaping of golf courses requires careful attention to all the details of selecting and placing the proper materials on the course. Such factors as strategy of design, aesthetic quality and ability to maintain the golf course must be taken into consideration.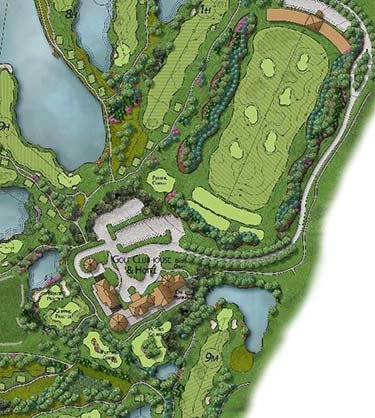 The proper use of plant materials can add color to areas that will impact a golfers view; screen distracting views; enhance the strategic design of golf holes; add to safety for players and generally create an environment that makes playing the course a more pleasant and memorable experience. Conversely, poor choices of plant material or improper placement of plantings can cause serious maintenance, aesthetic and strategic issues. We understand the difference!
Rick Robbins and Brian Lussier, both principals in Robbins & Associates, are trained as Landscape Architects with degrees from well-known universities. Rick Robbins has been a Registered Landscape Architect since 1974, often in several states at the same time. Our method of golf course landscape design takes into account the style of the course, the climate, design strategy, maintenance budget, irrigation system design, grassing plan and other factors to make certain that the landscape program fits well into the specific conditions of each project.
Because Robbins & Associates is able to provide a multi-disciplined approach that includes master planning, golf course design, construction management and landscape design, we can make sure that all parts of the landscaping for the project fit with each other. All parts of the landscape on the golf course, in housing development, along roadways, at project entry features and other areas must appear as a seamless whole that ties all elements of the project together.